In today's society, social media (and videoconferencing systems, for companies that regularly host webinars) play an important role in brand management, as social media and other communication tools have become the go-to platforms for learning, finding new job opportunities, and growing your business with efficient means of direct communication. It is a heavy trend that only goes to show how critical social media marketing has become, especially as the 2020-2021 pandemic ushered in a slew of changes in our lives.
With the continued shift towards online interactions, the majority of marketers have doubled down on their social media marketing strategies. Marketers can engage their audience and connect with potential customers wherever they are on social media sites like LinkedIn, Youtube, Facebook, Instagram, Twitter, and even some of the newer platforms like TikTok, as long as value is being provided through interesting content.
It is very important to know that branding isn't just for businesses: branding can also be applied to a product or a person. It's quite simple to gain a better understanding of oneself by using social media sites, and this often comes in handy while you're out meeting new people and demonstrating your abilities to the rest of the globe. We created this guide to assist you in identifying factors to be considered when using social media platforms for branding.
The following are the topics we will be discussing:
What the heck is social media branding anyway?!
Effects of Social Media on Branding
The Benefits of Social Media for Businesses
The Downsides of Social Media for Businesses
---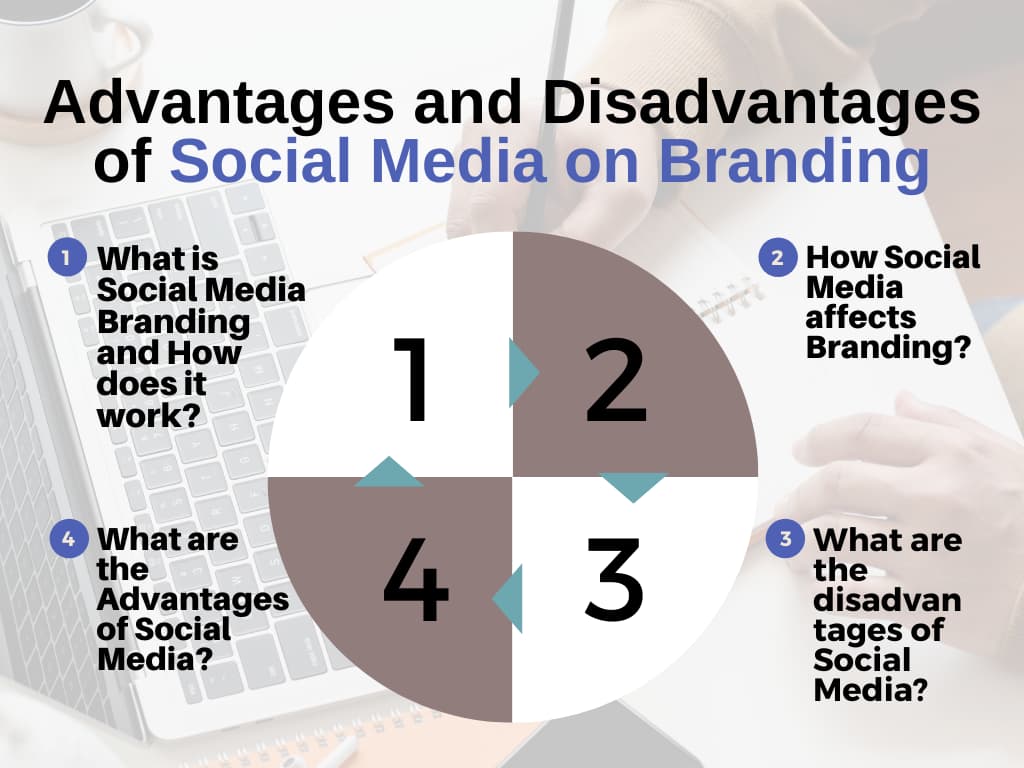 What is Social Media Branding and How Does it Work?
Social media is one of the most powerful tools to market your brand and stand out from the crowd, as you communicate with customers and exchange information in real-time. This can assist you in better reaching out to your clients, forming online networks, and promoting and supporting your products and services.
When an individual, corporation, or organization builds a unique brand identity across social media platforms to boost their brand awareness, this is known as social media branding. This aids in the development of a stronger relationship with customers via social media platforms.
A social media branding plan allows you to engage with your potential customers in the most efficient way possible, increasing your chances of being seen and meeting your business objectives. To avoid wasting time and resources on useless tactics, a carefully considered brand strategy should be applied to all social media platforms.
How Does Social Media Affect Branding?
It is no surprise that consumers are spending more time on social media than ever before, and because it encourages users to share stories and facts with others, social media has a significant impact on branding. However, keep in mind that social media communication messaging must be distinct from advertising in order to motivate your consumers to share, and it must be uniquely interesting or useful. No one talks about how great a certain bank's product is since they're all so similar. On the other hand, bad customer service will be disseminated to millions of people in seconds via social media. A buyer may be reading nasty social media posts while watching a polished TV commercial for the same brand.
Many brand-name products or stores are the subject of conversation on Facebook, Twitter, LinkedIn, or any number of blogs due to the amount of social media consumption and involvement, and—to some extent—the very nature of the media. When using social media for business, it's easy to get carried away. Before you begin, it's a good idea to walk carefully and consider both the advantages and disadvantages.
What Are the Advantages of Social Media?
Let's start with a simple fact: nowadays, in almost every case, your company needs to be on social media in some shape of form.
It makes no difference whether you own a small local shop or a large national corporation. Consumers use social media to learn about businesses and goods, investigate them, and share what they learn.
There were 4.48 billion people using social media by 2021, according to estimates. Businesses have never had such easy access to so many potential clients before. While this figure is encouraging, keep in mind that 97 percent of small businesses are vying for the same attention. According to research, customers are increasingly using social media to express their loyalty to their favorite brands and products, and many want to be compensated by firms for promoting their items.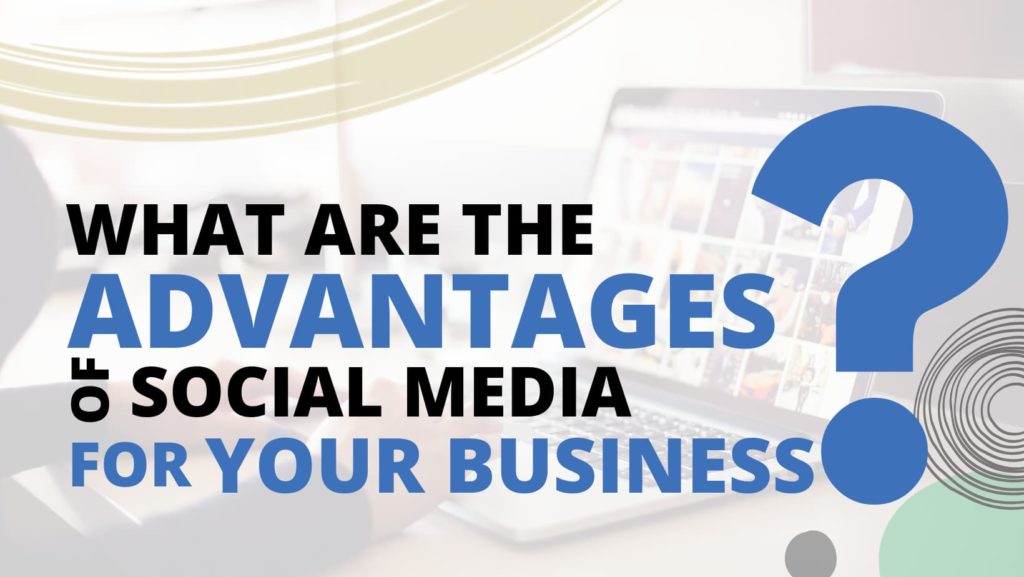 1. A good social media presence can increase trustworthiness and brand recognition.
If people don't know about your business, they can't become your customers.
Social media is one of the most cost-efficient digital marketing methods used to syndicate content and increase your business' visibility. Across different platforms, companies can tell their story, why they provide the services they offer and keep audiences updated with customer and employee stories. You can use social media to create relationships with your customers. This may aid in increasing customer loyalty and advocacy.
To get started, create social media profiles for your business and begin interacting with others. Connect with people in your sphere of influence; encourage your employees, business partners, and sponsors to follow/like/subscribe to your page, comment on it, and share it around. Simply having people interact with your content will increase brand awareness and begin building your reputation as a business. Each shared post will eventually make its way to a new network of individuals… and the more people who know about your business, the better.
In every organization, client trust is crucial; the more customers trust your firm, the more likely they are to buy your products and use your services. Thousands of followers may follow you but never read your posts or click on your links. Your aim is to cultivate a vibrant online community of your ideal fans, those who will actively engage with your material, share it with their networks, and eventually convert it into paying customers. By investing a few hours per week on this medium, many marketers claimed that their social marketing efforts greatly increased their exposure. There is no doubt that simply having Social media accounts boosts your visibility among potential customers, letting you reach a wider audience with less time and effort.
2. Social media marketing is a low-cost option.
Another benefit of using social networking sites for marketing is the low cost. It is less expensive than traditional advertising methods like newspaper ads or television commercials. All of the major social media networks are free to join, and it's also free to start communicating with potential clients on a basic level. If you want to get more money out of your company, you can hire a professional and invest some money in social media marketing. This will result in decent returns for your company at a fraction of the cost of attaining the same results through traditional advertising, but this is no silver bullet, of course. Ideally, you would need both approaches to be used in tandem.
3. With social media, you have the ability to communicate with a large number of people.
Another significant benefit of social media marketing is this. You may reach millions of people by promoting yourself, your business, or items on social media sites. For businesses of all sizes, social media marketing is a great method to reach out to prospects and consumers. People use social media not just to discuss with friends, but also–to an extent–to discover, learn about, follow, and shop from brands (Don't believe us? Ask a popular tatoo parlor where 99% of their business comes from nowadays.), so if you're not on Facebook, Instagram, or LinkedIn, you're missing out! Great social media marketing may help your company achieve extraordinary success by cultivating loyal brand advocates, indirectly driving leads and sales.
Interaction, which is a trademark of social media, was built into social media marketing. Social media marketing allows for more contact between businesses and their clients, something that is often lacking in traditional marketing. You can improve customer service and respond to comments more effectively. Positive feedback is available to the public and can persuade other potential consumers. Negative criticism reveals places where you can make improvements. This constant connection establishes a long-term relationship that will yield a profitable outcome for any company.
4. A good social media presence can help increase inbound traffic.
Your website's traffic can be increased by using social media material. It can lead to increased online conversions, such as sales and leads. People who are familiar with your brand are probably looking for the same keywords for which you already rank. You'll have a lot more trouble contacting people outside of your loyal client group if you don't use social media as part of your marketing approach.
On all pages, but especially on your product pages, provide high-value content. As a result, the increase in social media traffic to your site not only likes what they see, but also converts into a sale or, at the very least, a sign-up for your newsletter.
5. A strong social media presence can help boost search engine rankings.
Social networking has numerous advantages on its own, but it also helps with other aspects of your digital marketing strategy, such as SEO. In the simplest terms, strong SEO improves your internet visibility. This means that the more people who visit your website, the higher your online traffic will be, and the more likely you will be able to sell your product or service to a larger audience.
What are the Disadvantages of Social Media Branding?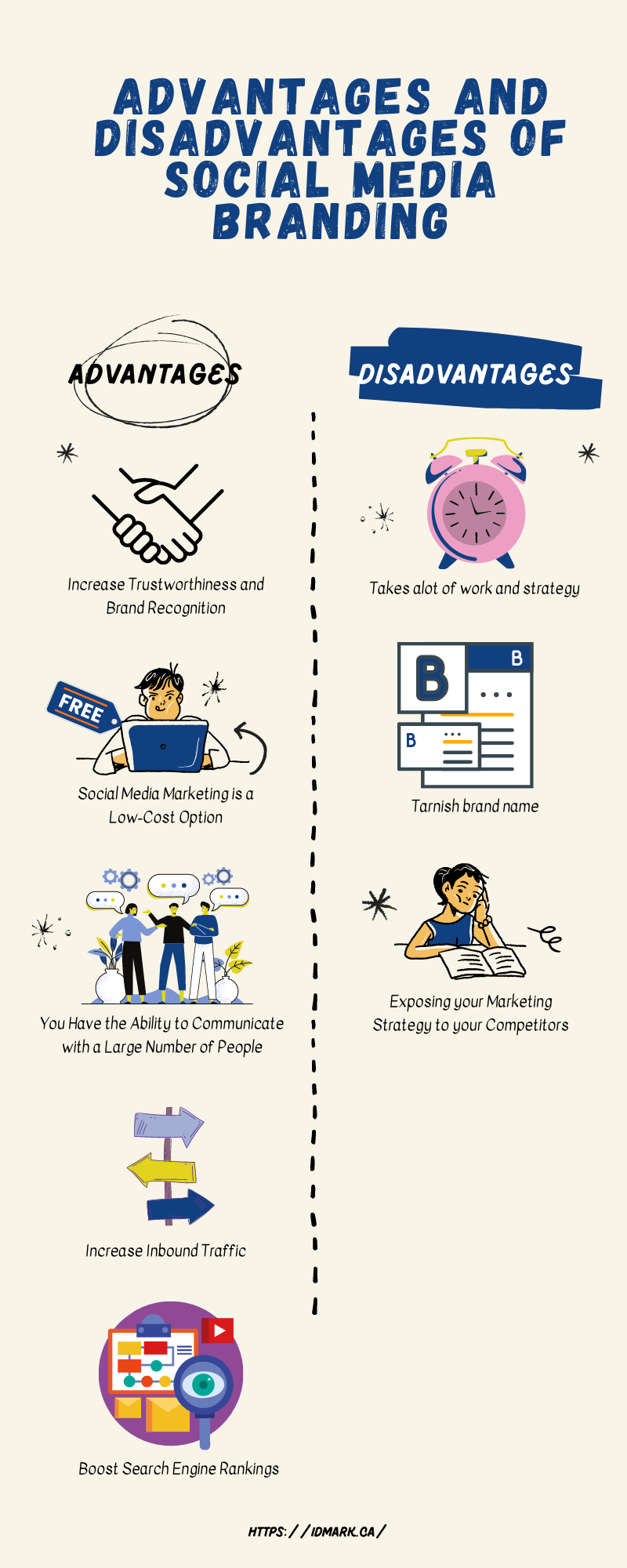 1. Social Media Takes a Lot of Work
An effective media marketing effort doesn't happen overnight, it takes a lot of time and effort. Given the abundance of knowledge on the internet, you'll need a lot of patience to perfect it.
2. Mismanaged Social Media Can Tarnish Your Brand Name
Ineffective usage of social media is possible. For example, failing to respond to negative feedback or utilizing social media to promote sales without engaging with customers might harm your reputation, not to mention the very high degree of care and attention you must pay to your tone and social acceptability. Social media marketing is a strong tool for promoting your company, but it can also be used to bring a business down or negatively damage it, especially if your brand is behaving in a tone-deaf way. Read the room! Always exercise caution before posting your content on social media platforms.
Your brand is who you are in the eyes of your customers. Your business will develop if you can save your brand from possible ruin or a tarnished reputation. Thus, It all comes down to how well you handle negative feedback directed at your organization, as well as using social media to convey optimism and enthusiasm.
3. Social Media Can Expose your Marketing Strategy to your Competitors
Your competitors can easily search through your social media platforms to analyze your company's tactics. This puts your company at risk of being outperformed. This is a two-way street, of course: you can also use social media marketing to research your competitors' strategies!
Final Note
While it should not be your only strategic tool, there are almost no excuses for not using social media in your marketing approach in this day and age; there isn't much to lose as it is so cost-effective. Don't allow your competitors to steal your potential clients because they've beaten you to the social media game. The sooner you get started, the faster your company will grow.
It can be wise to retain the services of a social media marketing agency to help you manage the day to day of your social accounts, though you may need a branding agency to set the tone and strategy first. If you are struggling to build and safeguard your brand, we might be able to help as a branding agency, where we will investigate and design a workable way to meet your marketing and sales goals before you invest in ongoing services with a social media management agency, freelancer, or staffer. Consider idéemarque's brand management and rebranding services and contact us to get started.