What is the word that comes to your mind when you hear the brand, "Nike?" or even when you hear its trademark, "Just Do It!" you can probably picture what it is. Yes! That is how powerful the brand is. Many entrepreneurs looking for advice on expanding their business will go to brands like Nike (or Apple, Facebook, Amazon, and so on—but we'll mainly use Nike as our example in this article for consistency's sake). It's so enticing to want to copy every branding or marketing move they make, thinking, "If Nike does it, we should do it too; they've got to be doing something right!"
Well, they weren't always perfect, either.
When Mark Parker first took the helm at Nike, he sought the advice of several wise mentors, as do most successful CEOs. "Nike makes some of the best products in the world. Products that you lust after. But you also make a lot of crap. Just get rid of the crappy stuff and focus on the good stuff," said one of those mentors, Steve Jobs. They innovate the old rather than pursue the new. They apply all of their bright new ideas to established products and services that already have a lot of traction in the market and a lot of consumer goodwill, with the goal of making them even more iconic.
You may be asking yourself, "How did Nike become successful and one of the leaders in the sports product market?" and "Why does product innovation matter?", so we'll cover those two aspects in this article.
---
Why is Product Innovation Important?
Product innovation entails developing new products or improving existing ones to boost their utility. This innovation can come in the shape of new technology or in the product's own functioning.
Product innovation is critical because it allows you to carve out new niches in an overcrowded market like Nike has been doing throughout the years. You may find new opportunities and serve consumer wants in a new and refreshing way by identifying holes and imposing yourself into a new space.
It's also worth noting that product innovation doesn't always imply the invention of a brand-new product that solves a brand-new problem. Consider how frequently cell phones and automobile makers release new versions of their goods. Automobile manufacturers, for example, produce one new automobile per year. Every few years, cell phone makers introduce a new version of their phones. The manufacturer is attempting to introduce something distinctive in this manner. Product innovation is all about making the best of what you already have. You take feedback from customers and convert it into a better product.
What Makes Nike's Marketing Strategy Stand Out from the Competition?
Nike, which dominates the sports marketing field, always brings innovation and new ideas to the table. Nike has delivered some of the most successful marketing campaigns to date, and it shows no signs of slowing down. The globally recognized sportswear behemoth is currently on top of its game. Nike's enormous success as a leading sports apparel brand comes as no surprise. Each Nike campaign tells a different story and takes the audience on a different journey.
Nike's success is due to some of, if not all, of the best marketing in the world. Nike still outranks the top valuable brands by multiples, stated by Brand Finance's Apparel 50 2021 list, overtaking Gucci, Louis Vuitton, and Adidas, among others. Nike's business plan is simple: spend on emotional marketing and sports star endorsements to create your brand, develop high-quality, market-leading technology products, and buy out competitor sports brands.
Nike's digital marketing strategy is backed up by brilliantly effective advertisements. They are not only selling products, but also the emotional benefits of those products. In a nutshell, they're selling aspiration. As a result, the brand only shows the promoted product to the audience in a few of their campaigns. Instead, they appeal to emotions.
These are some lessons we can learn from Nike's marketing approach.
1. Diversity and Inclusivity
Nike's mission is to be a "leader in advancing diverse and inclusive teams," they've long been committed to supporting diversity and being champions for inclusion. And they continue to partner with diverse organizations and share our progress each year. As they seek to move the world forward through sport, Nike believes that the success of their teammates drives the success of their business.
Nike's teams turn their imagination into innovation to serve their athletes around the world and achieve their objectives when they feel encouraged and inspired. Nike is a firm that is driven by its mission, growth, and innovation. Nike is also a strong supporter of racial equality, featuring men and women of all colors and genders in its commercials and social media posts.
Here is an example of their commercial video about equality:
2. Celebrity Collaboration
Nike is also well-known for another feature: its frequent employment of celebrities as brand ambassadors. In reality, Nike's partnership with Michael Jordan is one of the most successful brand-celebrity partnerships ever. The cooperation was so successful that Nike and Jordan decided to create a new brand, the Air Jordan line of sports shoes.
In the sports business, Nike pulled off a similar coup when it teamed up with ace golfer Tiger Woods to enter the golf category with apparel, equipment, and accessories. Nike had never played golf before, and because golf is such an "elite" sport, it was widely assumed that a brand like Nike would struggle… This would have been true if Nike had taken the traditional route to establish its golfing brand. Nike, on the other hand, chose to partner with the best golfer on the planet and have him represent the brand. The rest is history: Nike has had a lot of success in golf, as we all know.
An endorsement is a form of brand communication in which a celebrity acts as the brand's spokesperson and verifies the business's claim and stance by lending his or her personality, popularity, social standing, or industry experience to your brand. Celebrity endorsement was once regarded to give a distinct differentiator in a market with a high proliferation of local, regional, and international businesses.
3. Keep a Strong Presence on Social Media
Nike has developed a big social media following by making fun and inspirational postings to attract consumers, with 199 million Instagram followers and over eight million Twitter followers. Customers can contact Nike by tagging the account and expressing their dissatisfaction or admiration in the comments section of each post. Negative comments are frequently met with a response from Nike in an effort to defuse the issue. Nike has a primary account, but they also have subsidiary accounts for followers searching for specialized content, such as @nikegolf, @nikewomen, and @nikefootball.
Nike's brand identity has always placed a premium on innovation. It's hardly any surprise, then, that the corporation excels at using social media in innovative ways. Nike released its own "Nike+" social app in 2010 to encourage athletes to communicate with one another. In 2018, Nike Jordan collaborated with an AI platform to develop a Facebook Messenger bot. That was way before ChatGPT, kids!
Nike, on the other hand, does not overlook micro-influencers. In their ads, the company is more than willing to collaborate with a wide spectrum of smaller celebrities. This can be seen, for example, when the corporation reposts user-generated content: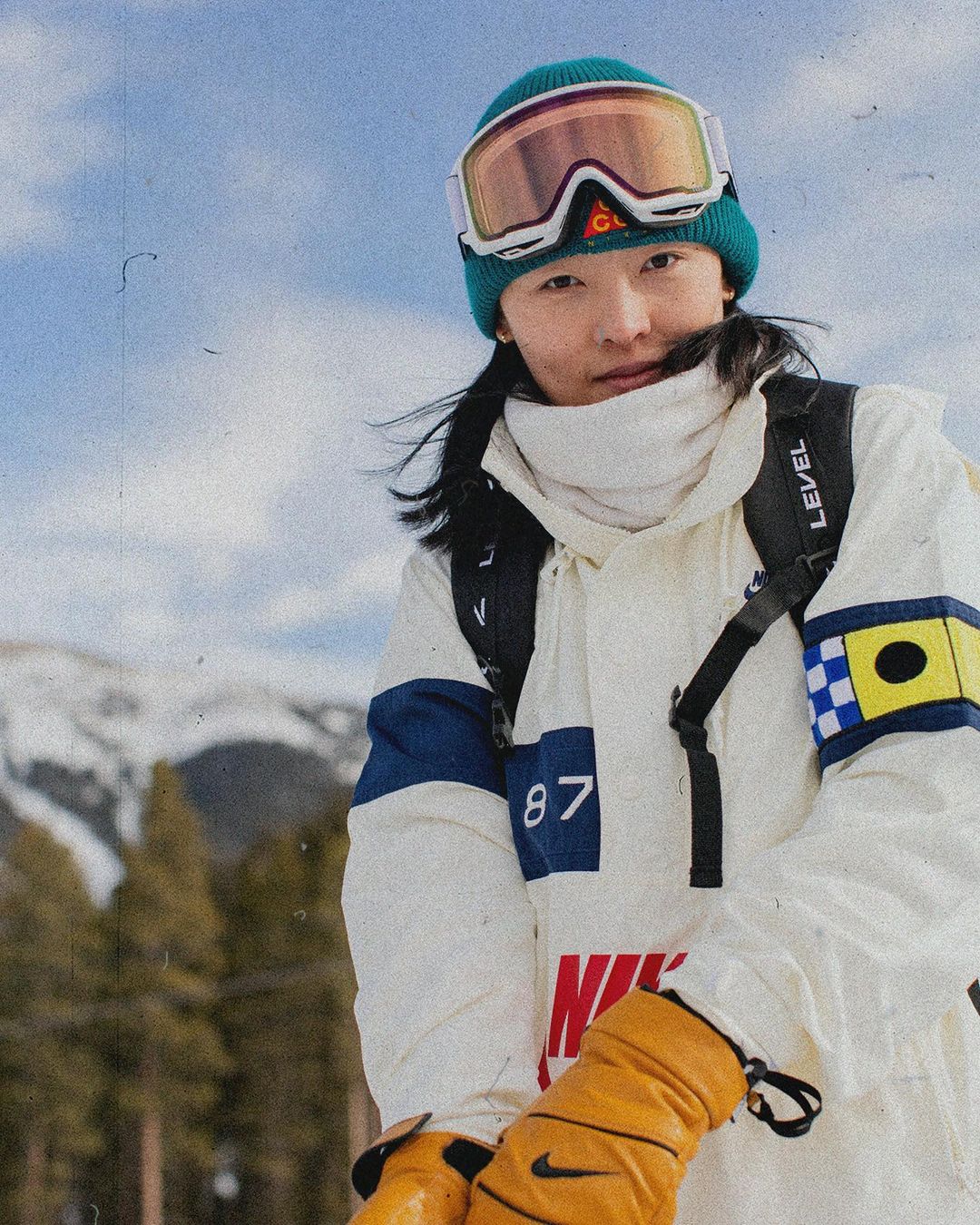 The photo above was posted from the Nike account on Instagram, with this description accompanying the image:
Another example? A simple exercise video re-posted from Nike's TikTok account with the caption, "Feel the burn, #BreakItDown. Nike trainer Alex Piccirilli giving us our dose of motivation 💪"
As you can see, Nike has been investing in social media marketing (see also: advantages of social media), either utilizing emotional advertising that everyone can relate to, or collaborating with different personalities from different industries. This helps them keep offering good products at premium pricing, and lets them keep tabs on the most recent trends as well.
4. Highlight Identity, Not Just the Product
Shoes, athletic gear, and other apparel are sold in Nike stores. Their commercials, on the other hand, sell an image and an attitude. Their 2008 campaign contrasted athletes' victories with their efforts to get there. That ad was promoting bravery. Their 2007 campaign featured basketball player Matt Scott in a wheelchair naming reasons why people fail to complete tasks. That advertisement was promoting motivation.
Kobe Bryant debuted in their 2006 commercial as he battled the haters. That advertisement was promoting self-love. The list continues on and on, all the way back to the start. Despite this, their items are rarely mentioned in commercials. People, nevertheless, continue to purchase their footwear. One explanation is that when most customers buy a Nike product, they aren't looking for any particular attributes. Instead, they're buying it for the sense of power Nike provides.
If you want to leave a lasting impression on your audience, avoid traditional sales pitches. Instead, focus on the core of your product and how it affects your customers.
Nike didn't gain a devoted following by harping on its trademark waffle shoes.
5. Make Your Brand Relatable
Nike's commercials rarely, if ever, reference its merchandise. What their advertising does, and does brilliantly, is use 'emotional branding' to elicit emotion in the consumer. Each advertisement is meticulously constructed to elicit specific thoughts and wants in the consumer that can only be met by Nike items. It accomplishes this by exaggerating the classic hero's struggle to overcome adversity and finally triumph over a terrifying antagonist.
There are real people and real tales in their advertising and on their website. They aren't concealed by dazzling graphics and models. Rather, they feature real-life stories of people of diverse shapes, sizes, ages, genders, and athletic talents overcoming challenges. The brand's relatability is based on these stories and visuals. People see themselves in Nike advertising and think to themselves, "If they can do it, so can I."
---
Conclusion
One of the most important components that build and define your company's identity is branding. Your company's brand should be built by executing a sequence of measures to add value, increase brand visibility, and make its products desirable. A good brand should provide consumers with something they can relate to or use in their daily lives, providing the product with both meaning and use. Take Nike, for example, whose successful supremacy in the world of sports is based on its ability to build its brand image, and visibility, and place a high value on the corporate logo.
Nike Inc. uses a deliberate blend of advertising, personal selling, direct marketing, sales promotions, and public relations to establish and sustain its marketing communications mix. Also, It was a big step for the company to include innovation in its purpose and vision statements. Nike made a brilliant move by emphasizing to the public and its employees how important they are. It was critical that it be one of the most inventive companies in its field. This resulted in the company making significant strides forward and is well-positioned for future expansion. Their ability to build game-changing technologies and products is due to their connections with athletes and consumers is also something to be noted. Nike continues to set the industry standard with innovations like the Flywire support system, Lunarlite foam cushioning, the Hyperdunk basketball shoe, new generations of Free footwear, and the new Trainer 1 sneaker.
Your company can efficiently promote items and build a brand image with those combinations. Furthermore, knowing your business strengths and factors that need to improve for the company's long-term success is essential to your brand image and product innovation. When it comes to brand visibility, no one does it better than Nike. They have reinvented the power of a brand image and are one of the world's most well-known, culturally understood, and symbolically significant enterprises.
In addition, Nike's logo has come to represent values in life that many people strive for: domination, authenticity, innovation, winning, and performance. Customers identify with Nike not only for their products but also for the image that the firm represents, thanks to Nike's ability to make its brand image encapsulate these ideas. They believe that their journey would serve as an inspiration to success for entrepreneurs in this competitive industry.
Ultimately, the key to success in marketing is to be authentic and transparent in your messaging. Nike's recent campaigns have resonated with consumers because they are grounded in the company's core values and mission. By staying true to your brand identity and communicating your message in a clear and compelling way, you can build a strong and loyal customer base that will help your company thrive for years to come.
---
Are you motivated to change your company's marketing strategy and brand identity? Nike demonstrated today a smart way of generating new leads and retaining existing customers. It's not complicated, yet it's a straightforward concept with significant implications.
If you want to learn how to modify your advertising plan and brand identity to get the most out of your efforts, you can watch your company gradually expand, just as Nike did, by having a solid knowledge and plan. We invite you to consider idéemarque's brand management and rebranding services. Contact us today to get started!